Need a WooCommerce mobile interface to monitor your store?
Woo2Go™ lets you keep tabs on your sales and inventory levels in near real time using any modern mobile device with an Internet connection.
No special mobile app required!  Just install the plugin, activate it, configure a few settings, and you instantly gain a mobile reporting overview interface for your site. All you have to do is open your site's custom mobile interface URL in any browser on your mobile device and the mobile interface loads automatically. Login as an administrator, and you instantly see sales overview data for your store. And, you get to configure any module interface URL you like in the plugin settings.
With just a glance you can see your sales total for today, this week, and this month. And you can see how much money you've refunded, how many coupons were used, and whether any of your products are low on stock or out of stick.
Woo2Go comes with 5 different themes, here's a view of the main mobile screen using the built-in "Agent i07" theme ( note that all data in the screenshots below is fictitious ):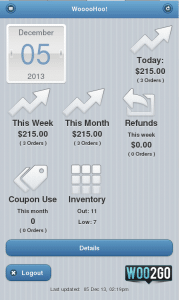 Click the Details button the main screen and you'll see the Details menu.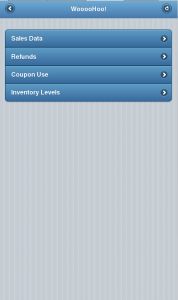 So for example, clicking the Sales Data item in the Details Menu bring up the Sales History screen: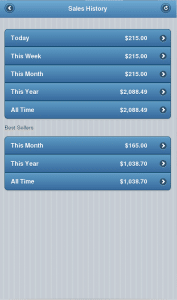 Click on Today in the Sales History Screen and you see a list of the last 10 sales for today: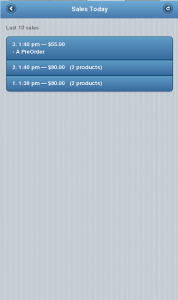 Or, from the Details Menu click on Inventory Levels and you see a list of products that are low on stock and / or out of stock.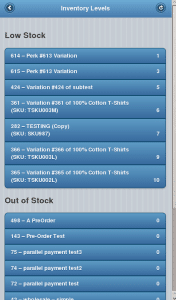 You can also view reports for coupon usage summaries, including how many orders were placed using coupons, percentage of orders where coupons were used, the total amount of discounts provided by coupon use, your top 10 coupons by usage, and your top 10 coupons by discount volume.
Woo2Go also includes a Refunds report summary so you can keep a close on eye on how much money you're refunding to shoppers. The refund overview shows how much has been refunded today, this week, this month, this year, and for all time.
As you can see in the settings screen below, you can set whatever title you like for the main page, and turn on / off various aspects of the overall display. So for example, if you aren't interested in seeing coupon reporting simply turn that option off in the settings.  The settings also include a refresh interval so the screen can automatically  refresh at a set interval. And, you if you into fancy screen changes you can set a screen transition that controls the effects used when navigating from one screen to the next. For example, maybe you like the flip effect, or slide up and down, etc.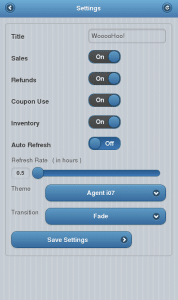 Woo2Go comes with 5 built in themes and you can switch between them quickly using the settings screen. Or, style your own if you prefer. Woo2Go fully supports the jQuery UI Themeroller for quicker CSS generation.
Woo2Go™ is a trademark of IgniteWoo. All Rights Reserved
Current Version: 2.0.20