WooCommerce Coupon Generator & Importer Pro lets you generate coupons in bulk and then download a list of generated coupons in a CSV file. It's great for marketing partnerships with companies such as Groupon, and great for any other situations where you need a big set of unique coupon codes for online or print marketing.
This powerful plugin lets you generate coupons in bulk and export them CSV, you can also import coupon codes from a CSV directly into WooCommerce.

When generating coupons you simply create what we call a "coupon generator set" which is a collection of coupons settings that define the coupons you want to generate. Each generator set has a title, description, and coupon settings (the same coupon settings you find in WooCommerce coupons), plus a field that lets you define a simple coupon code template. So for example, the coupon template lets you define a prefix and/or suffix. With that done, save your generator, then enter the number of coupons to generate and click the "Generate coupons" button. That's all there is to it.
With that done you can then download the list of generated coupons in a CSV format.
And, you can create as many generator sets as you need, and reuse the generator sets any number of times. The plugin keeps track of which sets of code were created with each use. So for example, generate 1000 codes today, the come back 3 months from now and generate another 7500 codes – or however many you need. Each set has a date / time stamp so you can clearly see when a set of codes was generated.
Create as many unique coupon generator sets as you need. Each set can be used to generate any number of coupons.
See the larger screenshots below for details. And give us a call if you have any questions.
This first screenshot shows a list of coupon generators that you've configured and saved. You can edit or delete, adjust settings, and reuse them as often as you need.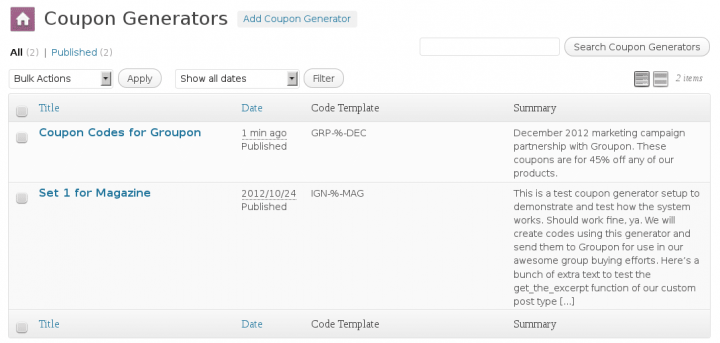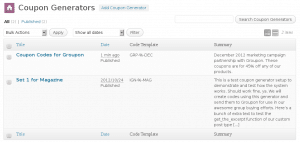 The next screenshot shows a coupon generator configuration screen. You can set a title and description (for your reference only), and set the coupon parameters of all coupons to be generated. The overall coupon settings are exactly the same as those used by WooCommerce when you manually create coupons.
In the right sidebar you see a "Generate Coupons" box. In that area you enter the number of coupons to create, click the "Generate Coupons" button, and the plugin will begin creating coupons. As the creation of coupons progresses you see status updates in the green progress bar and the info box below the bar. This helps you know when coupon creation is complete.
Below the Generate Coupons box you see the Coupons Sets box. It lists each batch of coupons created with this particular generator configuration, the date the coupons were create, and the number of coupons created in the set. When you click on the blue date link for a set the plugin downloads a CSV file of the coupon codes to your computer.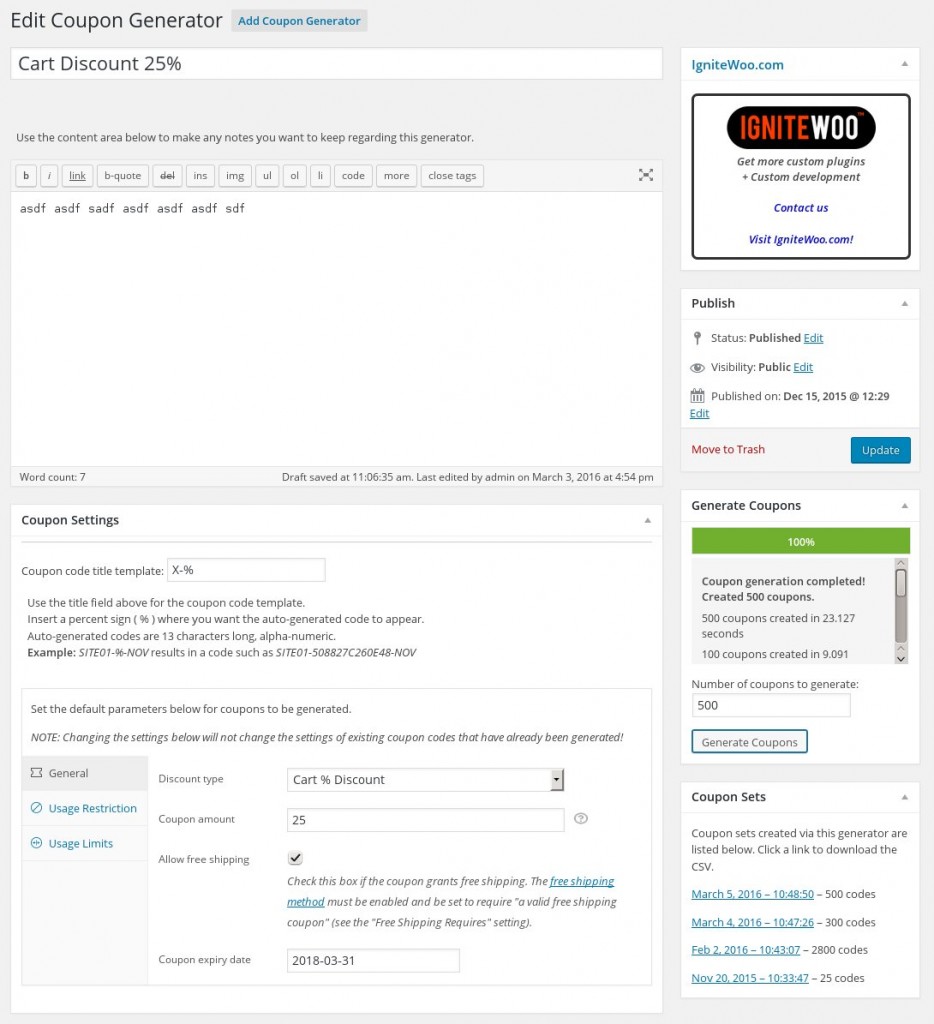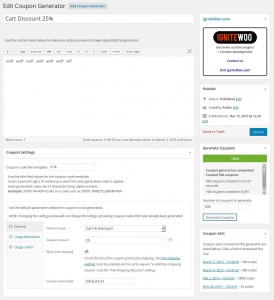 As with all our plugins, you get great support via email or phone.
Compatibility: WooCommerce 3.0 and newer
Current version: 2.5