Need to give customers dynamic pricing discounts in WooCommerce?
Here's your solution. WooCommerce Dynamic Discounts lets you define rules that give bulk pricing discounts based on the quantity of an item being purchased.
You can set up your pricing rules globally or on a per product basis. When you define global rules they apply to all products unless you set specific rules in specific products, in which case the per product rules take precedence.
Discount Rule Flexibility
Discount types lets you reduce prices by a percentage, a specific dollar amount, or alter the price to a new fixed price.
Percentage will discount by whatever percent you define. Specific amount discounts the product by whatever amount you define. And fixed price changes the product price to whatever price you define.
For example maybe you want to offer everyone 10% off if they purchase between 10 and 20 of any specific product in your store. No problem. Set that up as a global rule and you're done.
Or maybe you want to want to give a bigger discount of 20% on only two products. Again no problem, simply create a discount rule for 20% off in each of those two products.
Or maybe you want to change the price from $25 to $20 if someone buys 5 or more of a particular product. You can do that too.
Or maybe you want to discount products in "Category A" if someone buys 10 or more from "Category B". No problem.
And, rules are assigned to all shoppers unless you optionally assign rules to specific users or specific roles.
Global rules also let you define rules based on entire categories. So for example, maybe you want to offer 15% all products in Category X if shoppers buy at least 10 items from Category X. Again, no problem.
And, you can assign rules to everyone, specific users, or specific roles.
Use it with our Tiered Pricing or Wholesale Pricing plugins.
Display A Pricing Discount Table To Your Shoppers
You can optionally show a table of discounts directly on every product page so shoppers know exactly what price they're going to pay. See the examples below, and note that you can choose where to display the table: Above the product tabs, inside the description tab, above or below the add to cart button, or above or below the add to cart form.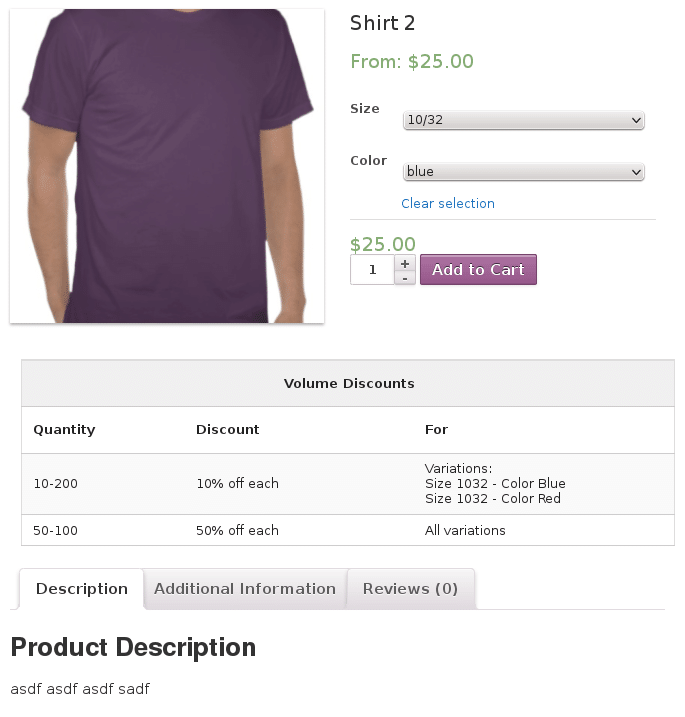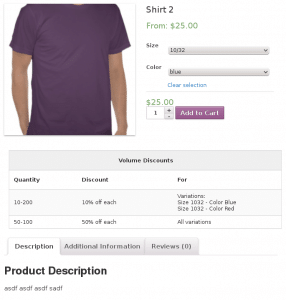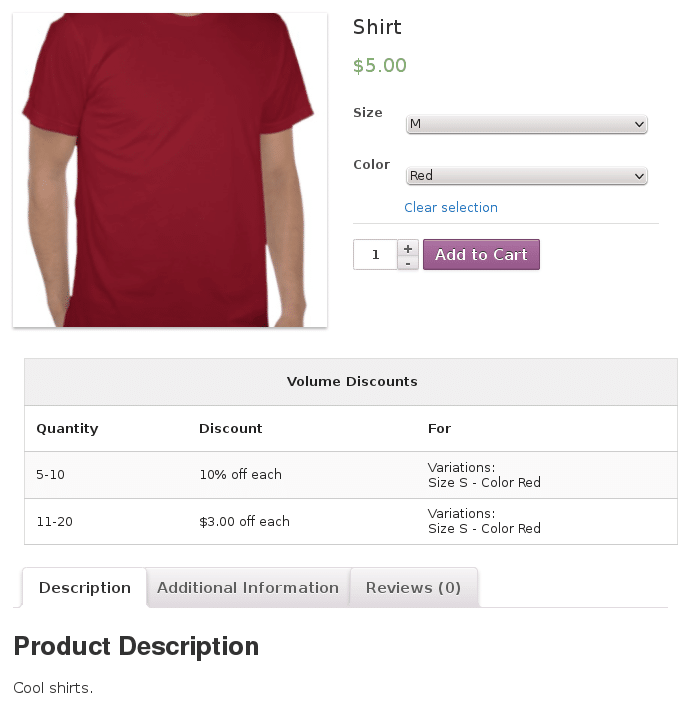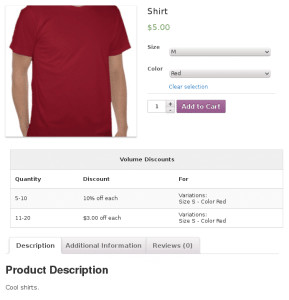 Display A Pricing Calculator
Depending on how you use the plugin, your rules can become somewhat complex. So we've included a handy feature that lets you optionally put a price calculator button on the product page. When clicked the plugin calculates the price the user will pay based on the quantity selected. Lets say for example you have 2 global rules, and those rules offer a 10% discount if shoppers buy between 20 and 50 of any products in Category A or Category B. It's difficult to determine what price they'd pay without knowing exactly what they intend to put in the cart. So you can really display an accurate discount price table. That's where this feature comes in handy. The shopper selects a quantity, clicks the "Check Price Discount" button, and the plugin will calculate the product price based on what is already in the cart. They also see a message informing them that the price might change when the cart contents changes. You have control over the form so you can customize the button label and messages any way you like.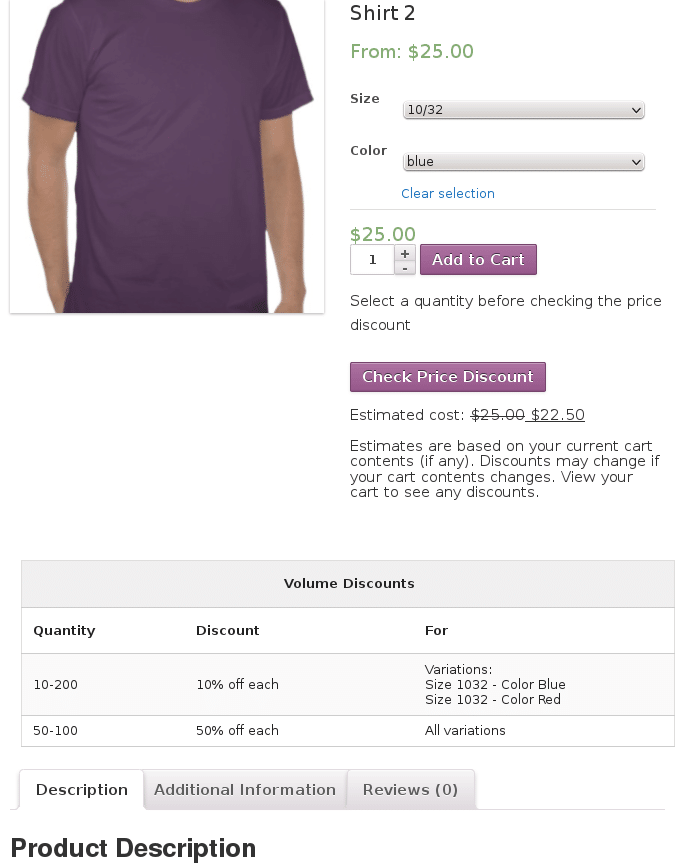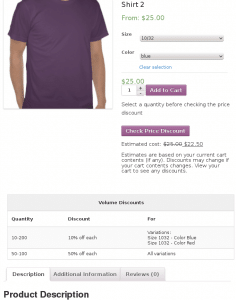 Customizable
You can easily customize the discount table and the price check button. The plugin comes with templates that you can copy and modify so that you don't lose your changes when you upgrade the plugin
Questions?
Contact us and we'll be happy to give you the answers you need.
Comes with great support via email and phone!
Compatibility: WooCommerce 3.0 and newer