Need to sell precious metals and automatically adjust metal prices?
Need to price your products based on their content of gold, silver, platinum or palladium?
PlatformGold® for WooCommerce, by IgniteWoo, works by easily syncing their complete catalog of bullion product pricing and inventory levels from PlatformGold® and allowing you to maintain live retail prices for thousands of products almost effortlessly. This plugin will also enable you to seamlessly transmit sales orders to PlatformGold® for fast, third-party fulfillment. Manage your price risk, expand your inventory offering, and reduce business costs.
Expand your inventory by leveraging Upstate Coin & Gold's stock and reduce your stock-outs.

PlatformGold® is a 24/7 online trading platform offered by Upstate Coin & Gold, a leading wholesale coin and bullion dealer that helps you buy and sell gold, platinum, silver, and palladium. They're based in the United States and provide drop-ship bullion services to businesses in many countries worldwide.
This plugin requires that you establish an account with Upstate Coin & Gold, contact them complete details.
Watch the video demo for this plugin:
The plugin works for gold, silver, platinum, and palladium, and can be used with any form of metal sales, including coins, bars, bullion, jewelery, plated items, and more.
Here's how it works: You create products, choose your base price type (spot price or PlatformGold ask price), and set the markup amounts for each product. With that done, the plugin automatically sets your retail prices based on the markup amount you define.
For example, lets say you're selling 1 ounce US Gold Eagles, and you want the price of each coin to be spot price plus 10% plus $5. Or maybe you want the price of each coin to be the PlatformGold "ask price" (the price you pay PlatformGold for the item) plus 10% plus $5.  Simply choose your base price type for calculation, set your first markup amount to 10%, set your second markup amount to 5, and you're done.
Have a look at the product settings below. One screenshot shows the settings if you choose to the PlatformGold product "ask price" as the base for your product price calculation, the other shows the settings if you choose to use the metal spot price as the base for your product price calculation.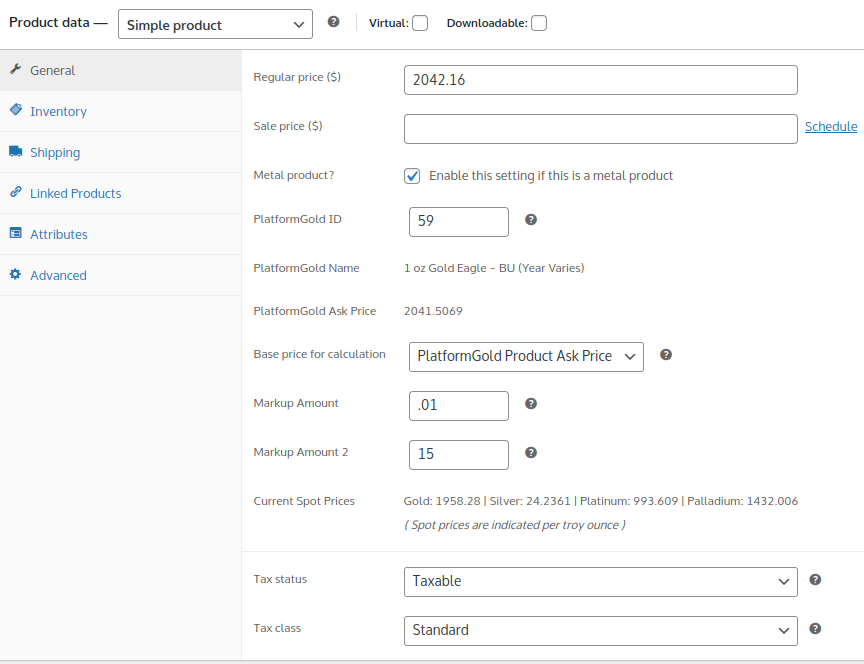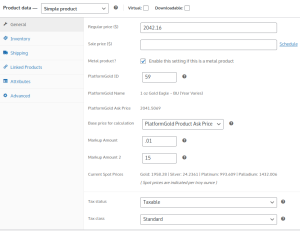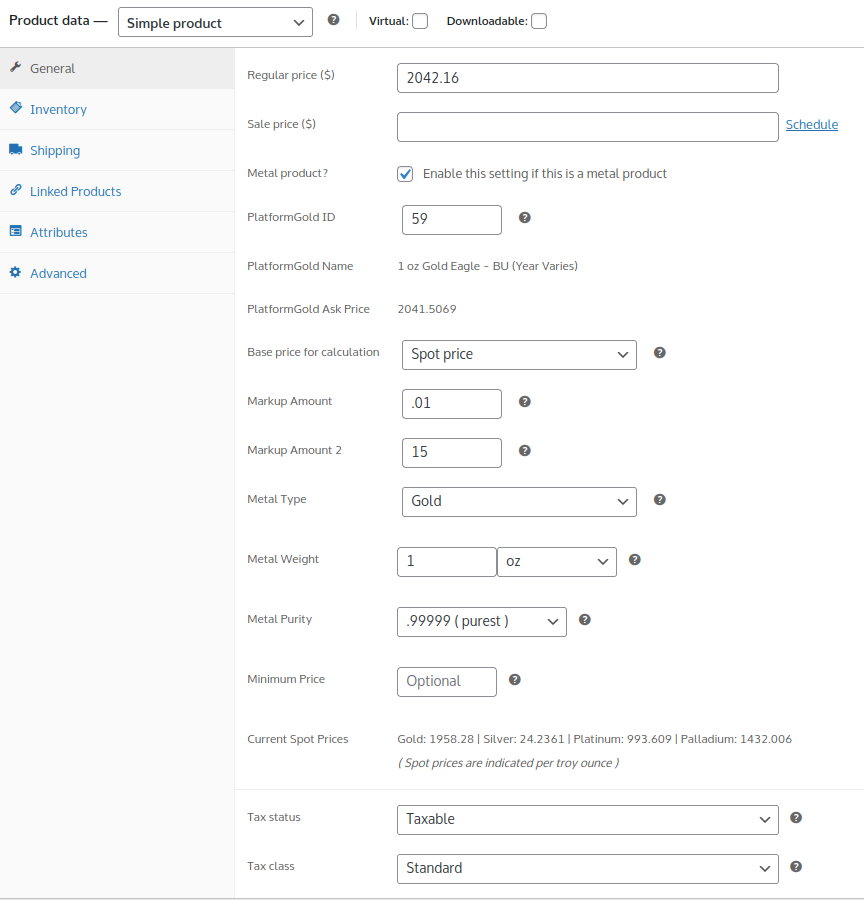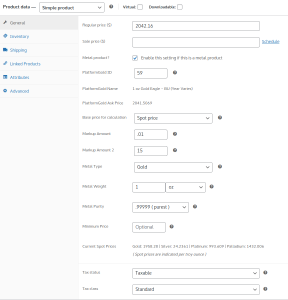 And, when someone purchases your products you can automatically or manually transmit a sales order to PlatformGold to fulfill your customer's purchase.
Powerful Features
Automatic spot price updates
Set the metal spot pricing update interval to any interval you prefer.
Set your markups as a percentage of spot price or a flat amount to be added to the base price for calculations.
Optionally add a second markup if you need to.
Set your metal weight in grams or a troy weight ( such ounces, pounds, or kilograms ), or as pennyweight.
Optionally define the metal purity in a product to help calculate prices.
Optionally set a minimum product price in case metal prices fall too low.
Supports simple products and variable products.

Display current metal spot prices in grams or ounces anywhere on your site using simple shortcodes.
Display your "buy" prices anywhere on your site using a shortcode. This is helpful if you buy precious metals or precious metal products.
Offers quantity volume discounts and charge different prices depending on payment method with our Precious Metals Discounts and Payment Fees add-on.
Optionally transmit new sales orders into PlatformGold when a new order comes into your site.
Note that this plugin does not support sale prices for products.
Compatibility: WooCommerce 4.0 and newer
Latest version: 1.0.5