Need a way to handle WooCommerce wholesale pricing, tier pricing, or role-based pricing?
WooCommerce Wholesale Pro Suite is the most powerful solution available. It's packed with features that give you the ability to create an unlimited number of pricing levels or types, along with optional bulk quantity discounts, minimum and maximum order totals and product quantities, quick order forms, a customizable registration form, a custom invoice payment gateway, powerful shortcodes to show or hide content, and more.
We pioneered wholesale / tier / role based pricing for WooCommerce back in 2012 and we've been the leader ever since. And, we're still innovating to bring you the best tools possible. We're confident that you won't find a better suite of tools at a lower price anywhere. And, as with all of our powerful extensions, WooCommerce Wholesale Pro comes with unbeatable support via email and phone.
Buy it standalone and get all the features described below, or save big when you get the

WooCommerce Wholesale Pro Suite BUNDLE

with your choice from any combination of Email Notifications Pro, Use My Shipper, Ship to Multiple Addresses, and Phone Orders and Manual Orders
Here's a summary of what you can expect when you use this WooCommerce pricing plugin:

Multi-Tier Role-Based Pricing
Gives you the ability to create multi-tier role-based pricing for for any use case you might have including wholesale, members, buyers clubs, etc.
Each pricing level you create gives you control over which shipping gateways and payment gateways can be used, and tax exempt status* and back ordering capability.
You can also also optionally control product visibility by hiding retail-only products from your custom role-based shoppers, and hiding role-based-only products from retail products.
For backorder control, you can optionally allow specific roles to purchase products that are out of stock and not available to the general public via backorder.
Easily set your role-based pricing globally for each role, or per product for each role, or per product category for each role.
Import and export role pricing using any common WooCommerce CSV import/export extension or plugin that supports custom meta data for products.
Control how your role-based pricing displays on product pages and in the cart where you choose whether to display pricing either including or excluding tax.
Optionally display retail prices along side role prices on single product pages and optionally display the savings on single product page
* Note that you can optionally make individual users tax exempt by adjusting a setting in their user account.
Bulk Quantity Discounts
Create rules that offer bulk and volume discounts.
Optionally define global rules that apply to specific quantities or quantity ranges of cart line items or the sum of items per category, and optionally control who the rule applies to by specifying certain users or roles.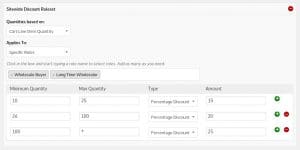 Optionally define rules for a specific product (when editing a product) that apply specific ranges of quantities of the individual product or specific variations of a product.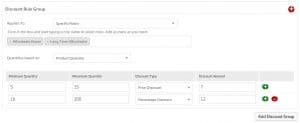 In either case (global rules or product specific rules) you can discount bulk purchases by a specific amount, or by percentage, or set a new static price.
Optionally show a bulk pricing table and/or a bulk price calculator on individual product pages.
Minimum and Maximum Quantities and Order Totals
Optionally control the minimum and maximum order total requirements or the min / max total quantity of items required to be in the cart before a shopper can complete the checkout process. You have complete control over the purchasing requirements in your store by adding rules that control these variables. And, you can set rules that apply to all shoppers or only certain users and customers, or only for certain users and customers that have specific user roles. Plus you can optionally create rules that apply only to customer that have not yet paid for a certain number of orders, so for example if you need to impose min/max rules on shoppers for the first order only, you can do – or you could impose rules for shoppers with less than 5 orders, etc.
 
For Shopper Orders
Set rules that control minimum and maximum total quantity of items in the cart, required before the shopper can complete the checkout process
Set rules that control the minimum and maximum for the total cost of the items in the cart that is required before the shopper can complete the checkout process
Any rule can optionally be assigned to specific shoppers – including all shoppers, or specific logged-in shoppers ( based on user account or user role )
Optionally exclude products from the rules (when editing a product, see the next screenshot below)


For Products Quantities

Set rules that control the minimum and maximum quantity limits for any product
Set rules that control the quantity increment that shoppers must purchase. For example, require shoppers to buy multiples of 5 for a product, or variation of a product
Any rule can optionally be defined for specific shoppers – including all shoppers, or specific logged-in shoppers ( based on user account or user role )
Works with simple, variable, and grouped products. You can set rules for individual variations of a product, or all variations of a product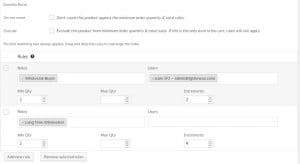 Quick Order Forms
Quick Order Forms lets you easy build simple one-page order forms for your site that can be used to greatly speed up the ordering processing for your customers.
Shoppers can quickly scan through a list of products, choose what they want to purchase, and add those items to the cart on the fly – all from one page without having to surf your web site going from product to product adding them to the cart.
It's great for general orders, wholesale orders, bulk orders, and for any situation where you need to provide a simple, easy to use one page order form so that your shoppers can purchase what they need quickly.
Create unlimited one-page bulk forms for any number of uses, including wholesale orders
Optionally control access to your form via user roles

Optionally display product thumbnail images and SKU numbers

Optionally include or exclude products by name or product categories

Each form includes a powerful search tool to search by title, description, and SKU

Ajax-enabled for super fast searching and adding items to the cart (no page reload required)

Embed a quick order form into any post or page using a simple shortcode (or PHP code if you need it)

Fully supports simple products and variable products

Fully supports the WooCommerce Mini Cart widget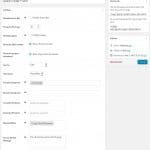 Customizable Registration and Lead Capture Form
You can optionally create a customizable registration form to help new shoppers sign up for your role-based pricing.
Build your form using an easy drag and drop interface. Make fields optional or required.
Possible fields include all typical billing fields seen on a standard WooCommerce checkout page (name, address, email, phone) plus a password choice field, a field for a Tax ID (or VAT ID for non-US businesses), single line text, multi-line text, radio buttons, checkbox, and anti-spam fields.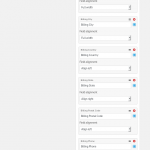 Insert your custom form anywhere on your site using a standard shortcode, optionally turn on an option to include link to your custom registration form on your site's My Account page.
User accounts are automatically created when the form is submitted, and you can optionally assign a specific role automatically to the new user account. All billing fields and Tax/VAT info are automatically saved into the user's account. Other fields are saved as custom user meta data.
And, if a shopper is already logged in with their existing account they can fill in the form to request an account upgrade to get your special pricing.
The site administrator will receive email with the registration details when a new user registers using your custom form.
You can also automatically send an email to the user when their registration is approved or declined. Or, if you prefer, you can send either of those email messages with a simple click of a button when you need to.
Additional Features
Hide all prices in your store unless the shopper logs in.
Includes a custom Invoice Payment gateway that you can optionally enable for all shoppers or only shoppers that have one of your custom roles.

Create role-based coupons that are valid only for specific user roles, or you can disable coupons entirely for all users that have any of your custom roles.

Define a custom "Thank you" page message that is added to top of your "Thanks for your order" page if the shopper has one of your custom roles.

Includes custom shortcodes to show or hide content based on user role, or based on whether a user is logged in or not. This is a great feature that you can use to display special messages or custom content to a selected set of users based on their user role.
Optionally hide prices and add to cart functionality unless the shopper is logged in.
Want to make a totally private wholesale site? Or totally private wholesale categories? Check out our Password Protected Private Sites & Categories extension.
Works with nearly all of IgniteWoo's other extensions including Use My Shipper (lets your shoppers provide their own shipping account info), Email Notifications Pro (notify your drop shippers, partners, or departments about new orders),  Ship to Multiple Addresses (lets your shoppers opt to have different items shipped to different addresses), Phone Order & Manual Orders (quickly and easy enter orders taken in person or over the phone, including shipping calculations and payment processing), and more!
Support
As with all of our plugins, you get great support via email and toll-free phone call!
Compatibility: WooCommerce 2.4 and newer
Current plugin version: 2.2.5